Search Engine Optimization (SEO) techniques are very helpful for the reach, growth and sustainability of your business. You need to take your business to the right customers at the right time. SEO searches are a great way to reach your customers, and prospects. But, is there a way to reach customers instantly, so that you reach them before your competition does? Well, there is, and that we what we mean by Local SEO search.
What is Local SEO search?
Local SEO is a one of the most effective form of online marketing, when local businesses can reach to local customers to promote their services, exactly at the same time, when they are looking or searching for a particular product or service. These search engines use Google and other business directories like TouchLocal, Superpages, Yelp, and others.
What is the importance of Local SEO search?
The Local SEO search can be beneficial in many ways.
Local customers are looking for local businesses: Studies have shown that 68% of people use online searches and directories to find local businesses. So, it is a great return on investment.
High conversion rates: Local SEO searches lead to about 50% conversion rate that is 1 in 2 people might turn out to be your actual customer.
Mobile searches: With more and more people shifting to mobile marketing, local SEO can be a great way to reach customers in real-time through local apps and searches.
Local marketing is timely and targeted: This reduces the reach time for local businesses, and helps to reach prospects faster. Moreover, many of the best local SEO opportunities are free as of now.
Credibility: Studies show that 70% of people trust online customers reviews for a product or service they are looking for. So, optimized local searches can really be helpful for the customer to choose the right service and also to create your brand value.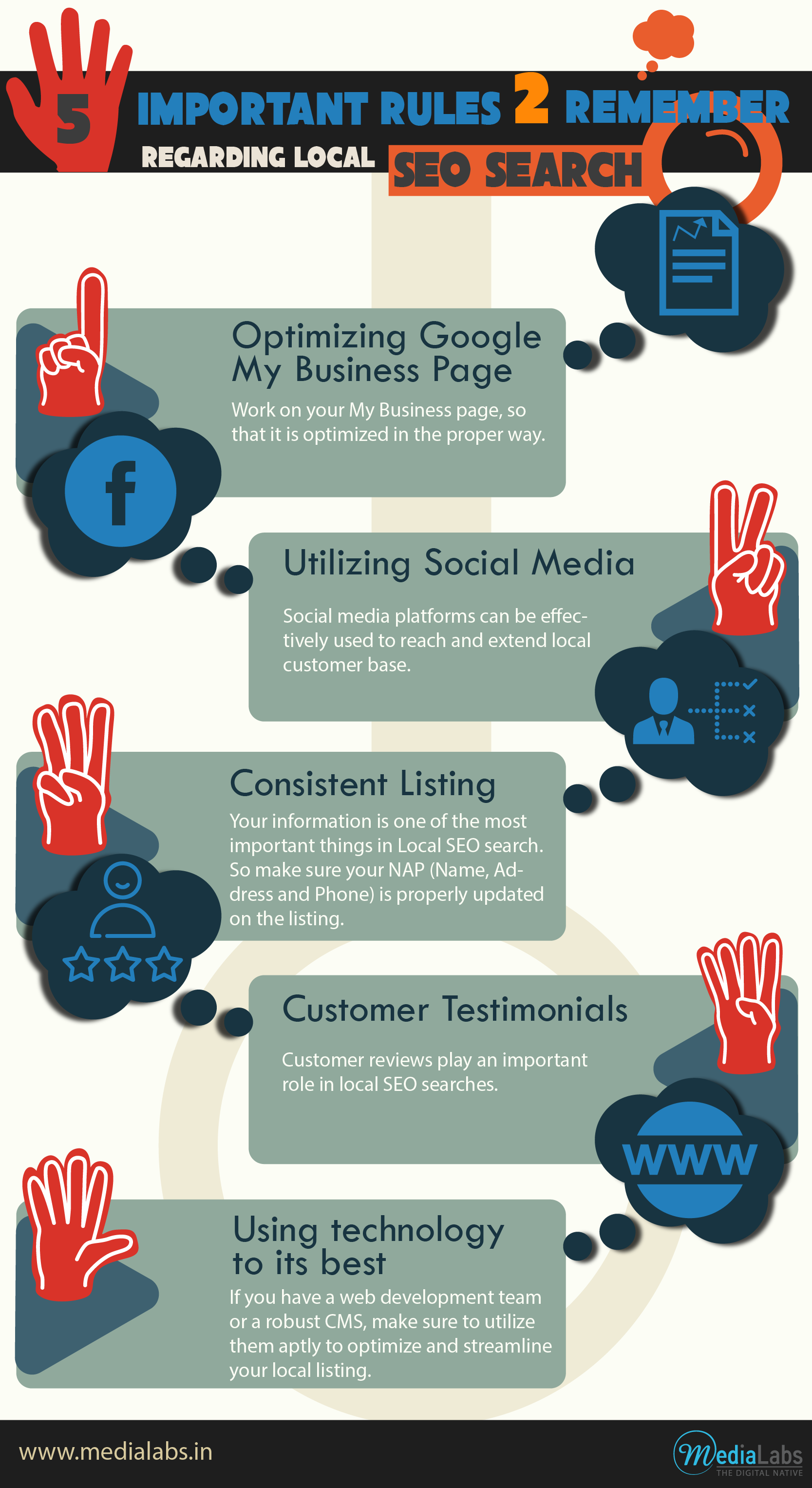 5 important rules to remember regarding Local SEO search
Local SEO search works best when you want to reach the local customer in the shortest time possible, and show up in the listing at the right time. The following things are important to remember, while implementing local SEO search:
Optimizing Google My Business page: Work on your My Business page, so that it is optimized in the proper way. Add proper content, high quality images, contact information, business category and all other relevant information. This is one of the best platforms by Google to connect you directly to the customer, and boost your local ranking strategy.
Utilizing social media: Social media platforms can be effectively used to reach and extend local customer base. Your presence in social media also contributes to your local visibility and business. For example, Snapchat has a geofiltering feature, which can attract customers to a local event.
Consistent listing: Your information is one of the most important things in Local SEO search. So make sure your NAP (Name, Address and Phone) is properly updated on the listing. An accurate and consistent listing also increases your credibility and chances of showing at the top. Studies have shown that 85% of small businesses feel that local marketing is important, but only half of them update their listings properly.
Customer testimonials: Customer reviews play an important role in local SEO searches. They can affect your brand value and help to increase your customer base. So, urge your online customers to leave a feedback, rating, and review about your services, which gives you an edge over your competitors. Research has shown that customer reviews are around 12 times more reliable than manufacturer descriptions, and people tend to trust such testimonials more.
Using technology to its best: If you have a web development team or a robust CMS, make sure to utilize them aptly to optimize and streamline your local listing. Geotagging, or the process of tagging geographical locations to posts, videos or images, can be really helpful for optimizing content, increasing local visibility and attracting traffic to your website. Also, make sure that all the technical aspects and elements of your website are proper, including page load time, error handling and navigation.
Local SEO searches are highly effective, when you know the needs and requirements of your local customer, and you have the products and services to cater to them. These are mostly geographical location based searches, so they are really helpful for local business. So, if you have a local business to grow, get your local SEO search strategies in place, and get ready to reap benefits.
Hey, thanks for the info. Now what?
If you need any help with content creation, we have tons of free resources to get you over the hump.