Visual Marketing Statistics You Need – 2016
Over the last few years, digital marketing has taken the Internet by storm. And, one of the most important aspects of online marketing is visual content, which impacts sales and consumer decisions, the most. The creation of apt and powerful visual content is among the top priority for marketers in the coming years.
Visual content can be of various types – images, audio, video, and many more. Not all visual content suits all brands or businesses. It is very important to research on the type of visual content that will make your brand successful and move ahead with a proper visual content strategy to maximize ROI. Creation of the right visual content is a tedious task and might go through several iterations. We have seen many examples of visual content campaigns failing due to lack of market insight and proper analysis. Visual marketing is cost sensitive, hence budget also plays an important role.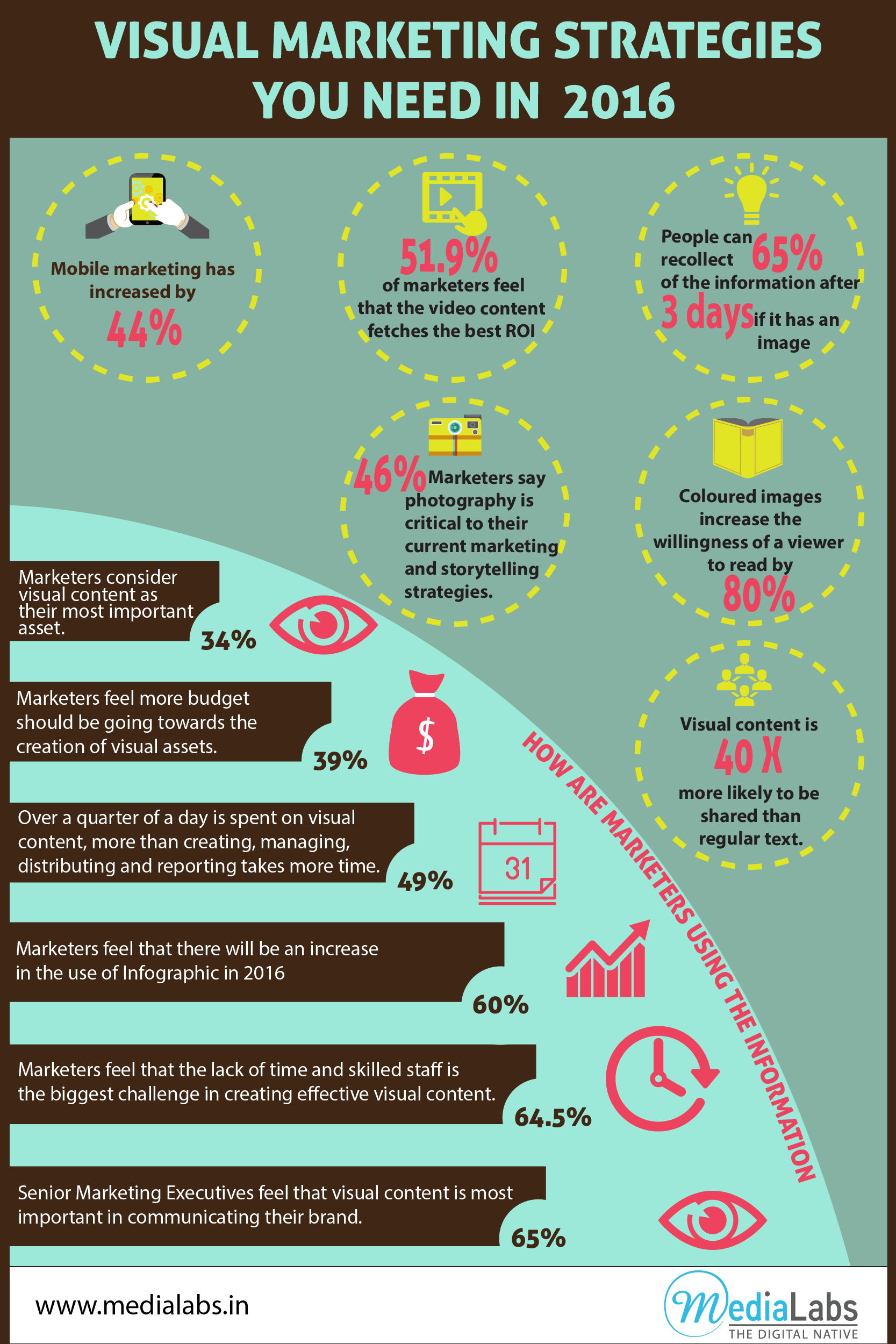 With more and more businesses moving online, marketers need to adapt to new visual marketing trends to keep up with the competition. Since, visual content is a creative sector and appeals more the emotional quotient of consumers, it has to be crisp, clear, precise and up-to-date to be effective.
Here are some of the visual marketing statistics, which worked in the last year and marketers need to be aware of, for successful campaigns in the future.
These are a few important statistics as per HubSpot:
Coloured images increase the willingness of a viewer to read by 80%.
People can recollect 65% of the information after 3 days, if it has an image.
Content with relevant images get 94% more views than those with irrelevant images.
Online shoppers who watch videos are likely to purchase 1.81X more than non-viewers.
Mobile Marketing has increased by 44%.
In the second quarter of 2015, mobile phones and tablets combined for 49% of video ad impressions.
9% of marketers feel that video content fetches the best ROI.
Infographics are liked and shared 3X times more than normal content.
People follow instructions with text and illustrations 323% better than without these.
Visual content is 40X more likely to be shared than regular text.
Facebook posts with images are 2.3X more engagement than those without images.
46% of marketers say photography is critical to their current marketing and storytelling strategies.
According to Digiday and Chute, around 20.3% of marketers feel that visual content is 3X more effective than text content. According to Moz, posts with videos are likely to attract 3X more links than text-only posts and statistics from Invodo tell that people are 85% more likely to purchase a product after they view a product video.
How are marketers using the information?
34% of marketers consider visual content as their most important asset.
65% of senior marketing executives feel that visual content is most important in communicating their brand.
39% of marketers feel that more budget should be going towards the creation of visual assets.
73% of B2C content creators will prioritize creating more engaging content by 2016, while 55% of them will prioritize creating visual content.
60% of marketers feel that there will be an increase in the use of Infographic in 2016.
Visual content budget increased by 3 to 5% in 2015 and it will likely to increase by the same figure in 2016.
5% feel that lack of time and skilled staff is the biggest challenge in creating effective visual content.
49% feel that over a quarter of a day is spent on visual content; more than creating, managing, distributing and reporting takes more time.
There are more of these insightful statistics in the links provided. As we see that, visual marketing is the growing trend and will keep influencing business growth and sustainability. So, keep a track on these market trends and keep evolving to be able to deliver the best on the web.
Hey, thanks for the info. Now what?
If you need any help with content creation, we have tons of free resources to get you over the hump. Please  to ensure that you never miss an article.
Have questions or comments? Please use the comment form down below. We read and reply to every comment.
If you really enjoyed this post, please help us to spread the word by clicking one of the social media sharing buttons.