Video Testimonials – A must have tool for future marketing
Digital marketing, especially video marketing has taken the Internet by storm in the last year, and is expected to grow in the current year too. With more and more consumers shifting to the web for purchases, marketers are leveraging video content to their advantage. Studies show that 74% of B2B marketers felt the video converts are better than any other medium. It also shows that those who are using videos are growing revenues 49% more than others.
Among one of the noticeable trends of video marketing in 2016, video testimonials has the biggest impact. It has been found that more than half of marketers, who have successfully used video content for marketing believe that product demo and customer testimonials are the most effective types of videos. Hence, we see that more and more sales team are using video content to connect to prospects and hence the growing importance of video testimonials.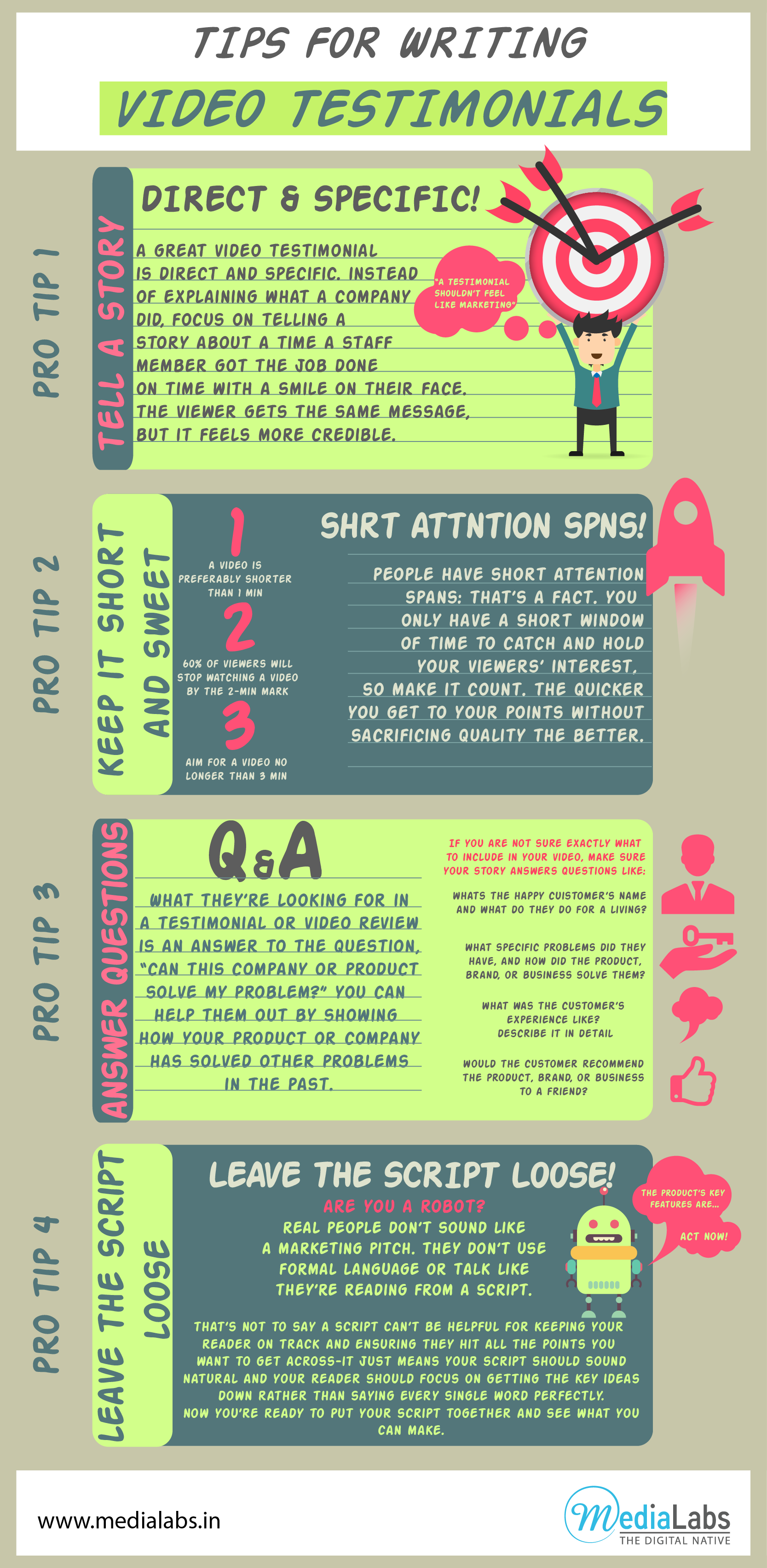 How users are viewing videos over the Internet?
According to a report by FastCompany.com, the daily video viewership of Facebook videos has doubled to about 8 billion over the last year. According to another report, this figure is expected to rise to 20 billion by the end of 2016 and that brands should be ready for it. Not only Facebook, competing platforms like Twitter, Snapchat have reported increased video viewership and expect the same to rise significantly in 2016.
So, we can see that users are now all over the Internet for their needs and purchases. Not only the social media, users are also attracted to video content on a Company's landing page or e-commerce blogs. Studies say that a video on the landing page increases conversions by 80% or more.
According to another report, customer testimonials ranks the highest when it comes to video marketing success. So, let us take a look at what is video testimonial all about.
What is a Video Testimonial?
Video testimonials are brand reviews to build the goodwill. They tell others how good you are at your business. This is one of the key things to build a good brand image and brand value.
Customer reviews are known to create a 74% increase in conversion and 90% of consumers admit that their buying decisions are influenced by online reviews. Around 79% of online shoppers trust testimonials as much as recommendations from friends.
And, why video? Online visitors are 64% likely to buy a product if they see a video about it. So, you can imagine the impact of video testimonials.
Why video testimonials are effective?
Video testimonial is taking digital marketing to the next level and marketers should use it to the optimum to generate online sales and build their brand reputation.The main reasons why video testimonials work better than others are as follows:
People love video:
Video content has always been more impactful than any other medium. People love it when there is a face to the message. Video messages are more exciting to watch than reading a lengthy content.
Emotional connect and Trust:
Videos have a better emotional connect with viewers than anything else. Viewers love to see the emotions, when they talk about a product or explain their views. Viewers will trust a face more than simple words.
Better Understanding:
A video message makes it easier for viewers to understand and interpret an idea. More than words, actions and eye contact make the message more believable. Even a layman would be able to understand a product better through a video than a textual content.
Makes the message more powerful:
Messages can be conveyed in a wide number of ways. The reason videos work the best is the impact it make son our minds. We tend to remember a lot of what we see and hear. The tone, the pitch and everything about a video makes it recollection quotient high.
Hey, thanks for the info. Now what?
If you need any help with content creation, we have tons of free resources to get you over the hump. Please  to ensure that you never miss an article.
Have questions or comments? Please use the comment form down below. We read and reply to every comment.
If you really enjoyed this post, please help us to spread the word by clicking one of the social media sharing buttons.