When you have a website, blog or marketing portal, you need to review it from time to time to check its performance. Based on it, you can decide how to improve and improvise your blog. The growth and success of your portal, depends a lot on its reach and marketability. And, these can be enhanced by increasing the number of visitors, likes, shares, sales, etc. To improve these, you need to have an insight of how your portal is performing in terms of number of users, conversions, page views, behavioural pattern of the visitors, etc. A good analytical software can help you with these data and statistics, which will help you to improve and manage your online presence in a better way.
Google Analytics is free analytic tool by Google, which monitors, tracks and report about your website traffic, and other parameters. This is the most widely used web analytics services, and have proved to be beneficial for its users. According to rough statistics, around 48 million websites use Google analytics for their analysis process, and the figure will continue to rise.
Using Google analytics is very easy and simple. Once you are well versed with the terminologies and process, it will be really easy to handle the app. Let us take you know a few important basics of Google Analytics.
First, we will take a look at the common terminologies used in the software and their meanings.
Dimensions:
It is a descriptive attribute of an object, which can be given different values like Browse, Exit Page, etc.
Metrics:
They are individual elements of a dimension that can be measured as a sun or a ratio like Page Views, session etc.
Sessions:
It is a period of time that a user is actively engaged on your page or app within a data range.
Users:
People (both new and returning) who have had at least one session within a selected data range.
PageViews:
Total number of pages viewed, including repeated views of a single page.
Page/session:
This is the average number of pages viewed during a session.
Average Session Duration:
This is the average length of a session.
Bounce Rate:
This is the percentage of single-page visits, for example, when a person leaves your site from the entrance page without interacting more.
New Sessions:
This is an estimate of the percentage of first time visits.
Goals:
This measures how often a visitor takes a specific action on your website.
Conversions:
This is the number of times goals have been completed.
Campaigns:
This allows you to add parameters to any URL of your website to collect more information about your referral traffic.
Acquisition:
This is how you acquire users.
Behavior:
This parameter helps you to improve your website content.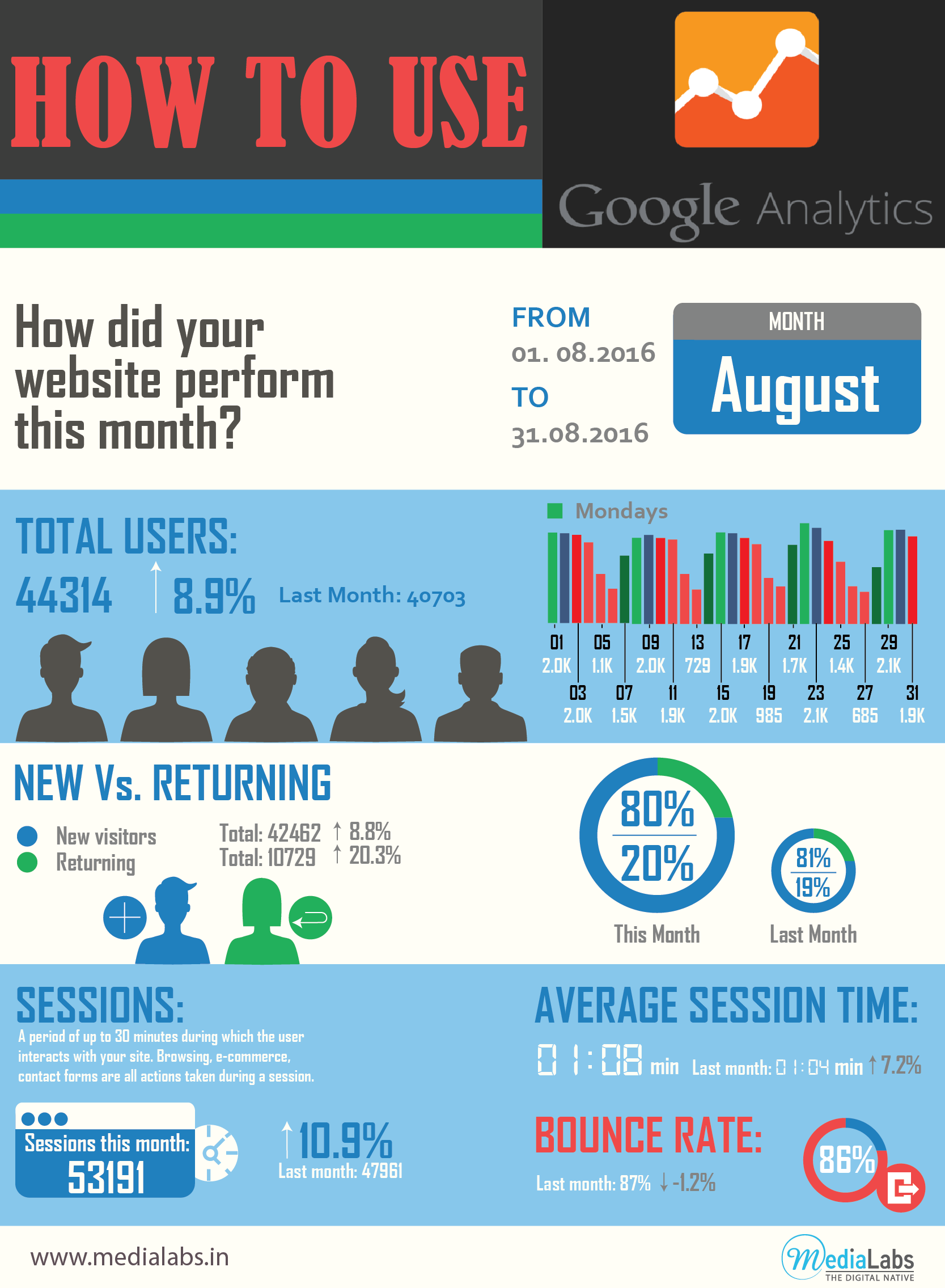 As a beginner, you can follow the below steps to start using Google Analytics:
Install and Set up an account:
You can download and install the software. Then, you need to set up your account. You can use your existing Google account for this. 100 Google Analytics accounts are allowed under one Google account. Up to 50 website properties can come under one Google Analytics account and up to 25 views under one website property. If you have more than one portal to track, then you can have two accounts- one for business and another for personal. You can also configure various business portals under a single business account.
Install your tracking ID:
After entering account details and choosing options to configure, where your results will be stored, you will be given a unique Google Tracking ID, which you have to install in all your websites.
Set Your Goals:
Then, you need to setup your Goals under Admin. This is very important as it will tell you when something important happens on your website.
Turn on Site Search:
Then, you need to turn on the site search so that you know what visitors are trying to search on your webpage. You need to enter the query parameter for your webpage(s). This is very important when your website has a search field.
Enter other necessary information:
Then, all the other important parameters, importation and necessary information need to be entered and your Google Analytics account is almost set.
You can lookup the Google Analytics data in different types of reports. Here are a few basic examples:
Dashboard:
Dashboard creates a customized view of your Google Analytics data. This is a good way to see certain subsets of data without going through the entire standard reports.
Shortcuts:
These are links to your favourite Google Analytics reports.
Intelligence Events:
This is an alert of when a specific event occurs. When you set this up, you will get an email for dramatic changes in sessions, goal conversions, etc.
Real-time:
This is the data to see what is happening right now on your webpage like current visitors, active pages or locations.
Audience:
These are detailed reports about your audience. It will tell you about audience Demographics, Interests, Locations, Language, Behavior, etc.
Acquisition:
These reports will tell you what drove visitors to your website. Generally, it gives data in main categories (Channels) and specific sources (Source/Medium). It will also give you an insight about your social media engagement.
Behavior:
This will give you data about the content of your page like most searched thing, top entry and exit pages of your website and others.
Conversions:
This talks about your goals and the conversion rate of your website. It will show you the number of conversions, which path visitors took for conversion and much more.
Google Analytics is an extensive software, which encompasses a lot of different features. What we have discussed above is just a guide for the beginners. However, there is still a lot to explore, understand and implement in the app. If you want to go deeper, you need to first understand the parameters and measurables, so that you can decide the kind of detailed report you want from the app. Using Goggle Analytics, gives you a 360 degree view of your website and helps you improve it from every aspect.
Hey, thanks for the info. Now what?
If you need any help with content creation, we have tons of free resources to get you over the hump. Please subscribe to this blog to ensure that you never miss an article.
Have questions or comments? Please use the comment form down below. We read and reply to every comment.