4 Great Tools A Graphic Designer Must Have
If you are a graphic designer who loves to create fascinating and stunning graphics, then you must be possessing the updated version of the Adobe Creative Cloud – that is the Photoshop, Illustrator and InDesign, right? These are in fact the most common design tools any graphic designer should have.
Apart from these standard tools, a graphic designer also needs to keep a few other tools handy to design effectively. Design tools that are thorough and useful, help a graphic designer to glide through the journey of creating beautiful designs. There are many tools available online, however, you need to choose the right ones that will magnify and heighten your creativity.
The graphic designing team at MediaLabs has shared 4 great tools that every graphic designer must have in his/her career:
1. Cloud Storage
It is good that you have all your creations stored in the hard drive of your computer, but what if you want to show off your brilliant creations to clients at their workplaces and your computer suddenly crashes? Swoosh! All your hard work will vanish in a jiffy! Therefore, it is safer to have a backup support for all your work in cloud storage.
You can have access to all your work anywhere and at any time. Are you confused about cloud storage? Have you heard of Dropbox? It is nothing but a cloud storage system, which allows you to store all of your precious work. If you use Apple products, iCloud will be easy for you.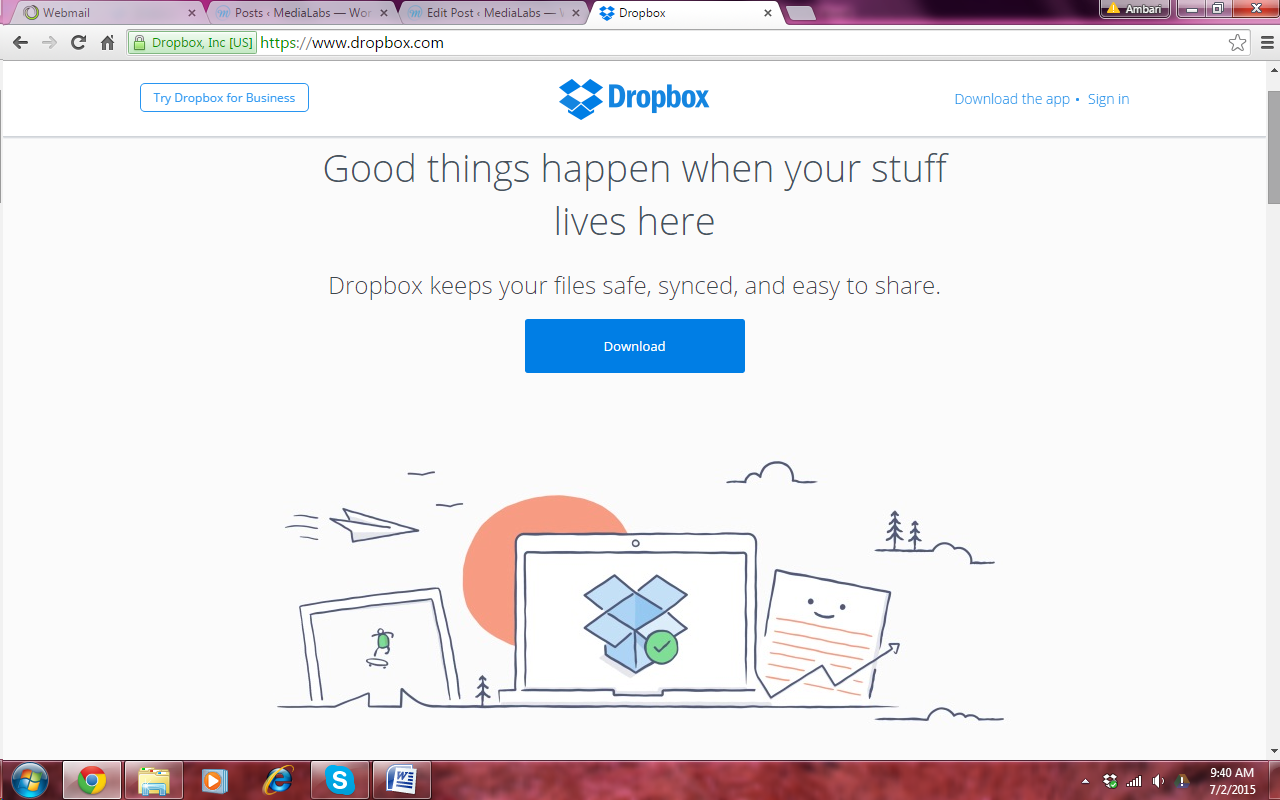 2. Font Squirrel
Font Squirrel a cool tool for selecting fonts. It is the best site where free, high quality, designer friendly fonts are available, which you can use for commercial purposes. It provides most of the fonts in a web-embedding ready way that is supported by major browsers. It also provides an application user interface (API) to list, preview and download the selected fonts.
3. What Font Is
Content is important and it makes a great impression in a design. As a graphic designer, you have a keen eye for detail and appealing text. Sometimes you might like the fonts used in posters or websites and may want to use them, but without knowing which font is used, it may get a bit difficult. In such situations, "What Font Is" comes quite handy. You can insert the URL of the site that contains the text or upload a screenshot. This tool will help you to get an idea of the font used.
4. ColorZilla
Color is the most important aspect of designing. Graphic designers need a subtle understanding of the colors they use. If you come across a color you like but are not sure of the particular shade, ColorZilla will help you find the color that has been used. It is completely uncomplicated and you do not even have to download the image. You can just put it in the illustrator and search for the shade.
Need help?
Do you need help with Website Designing, Graphic Designing, Infographic Videos, Brand Positioning, Organic Search, Digital Strategy, Social Media, etc.? Help is one step away. Drop us a mail at support@medialabs.in and we will get in touch with you.
Write back to us if you need help at support@medialabs.in. Follow and like us on Twitter, LinkedIn and Google+.
Hey, thanks for the info. Now what?
If you need any help with content creation, we have tons of free resources to get you over the hump. Please subscribe to this blog to ensure that you never miss an article.
Have questions or comments? Please use the comment form down below. We read and reply to every comment.
If you really enjoyed this post, please help us to spread the word by clicking one of the social media sharing buttons.