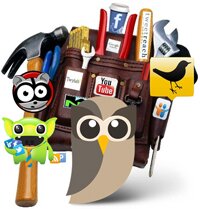 Social media is an integral part of our life. It makes us social virtually and of course, there is no single right way to get social. Digital technology gives us the chance to be present, online, active in multiple places at the same time. It is believed that there are about 2.216 billion active social media users across the globe.
Social media also gives us the opportunity to choose, which social platform we want to be social and when. So, comes in the concept of multiple accounts in social media and a reason for managing the same. Different social media accounts can be on the basis of preference, need or application. Multiple social media accounts can be accessed from different devices as well.
Facebook has always been one of the most popular social media accounts. Facebook tops the list in terms of active user in millions in 2015, followed by Whatsapp and others.
People have multiple social media accounts to be able to cater to different requirements. For examples, being 'social' among friends and family needs a Facebook account; messaging needs a Whatsapp account, professional network needs a LinkedIn account, daily updates need a Twitter account, image repository and shares need Pinterest or Instagram accounts, bloggers have their own domain accounts and so on.
Not everyone will need all the accounts. The number and type varies from user to user. But, if you happen to keep multiple social media accounts, you need a management tool to maintain and keep track of them.
A social media dashboard is like a website or a program, which helps you to manage all profiles in one place. You don't have to login separately to individual accounts, rather post updates, shares, messages etc. from one place.
There are different social media management tools and dashboards. However, according to a report by G2Crowd, the best 4 tools of 2015 has been listed as: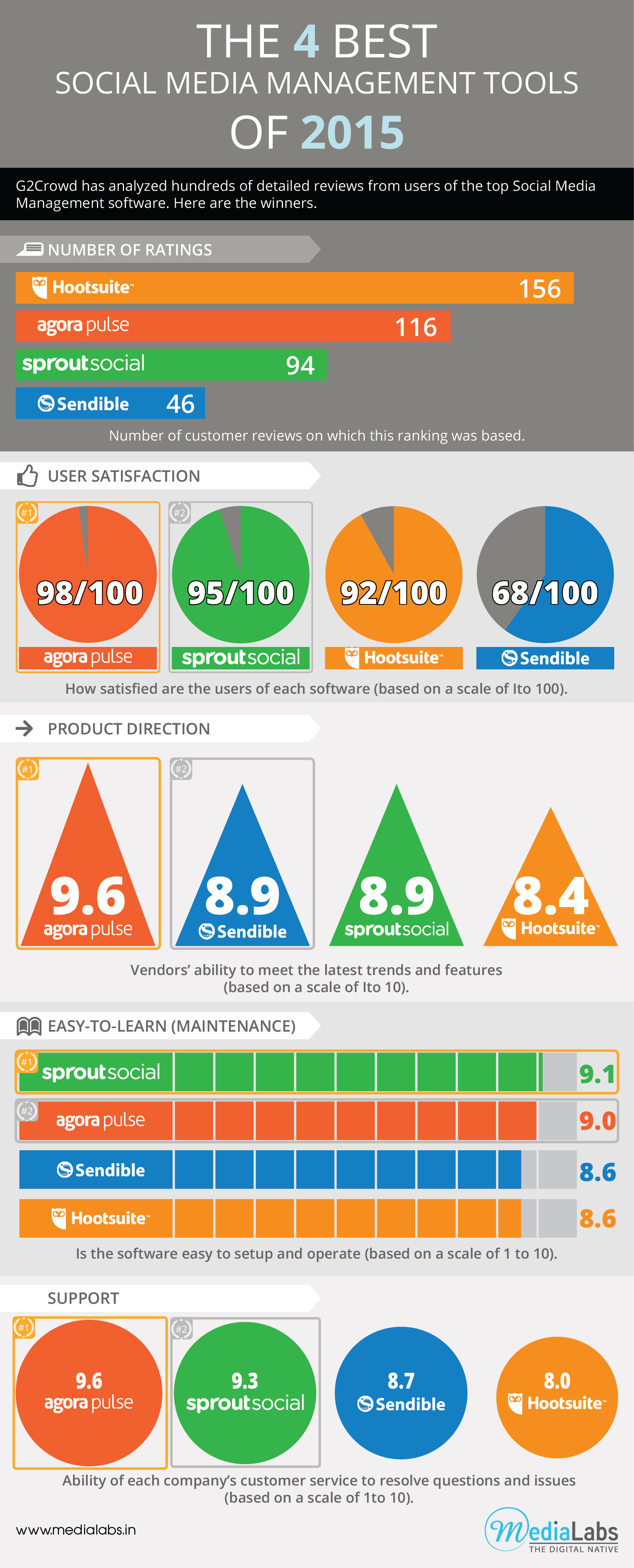 HootSuite:
It was founded in 2008 and first integrated with Twitter. Gradually, it incorporated others like Facebook, Google+, LinkedIn and others. There are two plans – Free and Pro. They differ in the features they offer like reports and team members. Currently, it is rated as the No. 1 social media management tool in terms of market share and social presence. They have an app directory, which lets you extend the number of apps and also the most affordable basic plan.
AgoraPulse:
This started in 2011 and slowly gaining popularity. It also integrates the major social media accounts with full access to reports and allows unlimited team members. The backend operation handles engagements effectively, and allows you to build Facebook apps. It scores high on customer satisfaction, customer support, and product direction.
SproutSocial:
This has the second largest market share after HootSuite. Though it's a bit expensive, but it has a popular and growing user base since it was founded in 2010. It gives full access to reports and analytics. Users have marked it high on ease to learn and usability. It integrates Twitter, Facebook, Instagram, LinkedIn and Google+.
Sendible:
This was started in 2009 and integrates a large number of networks. Here, the plans are based on 'number of services' rather than number of networks. It has been rated 2nd in product direction and meeting requirements. It comes 3rd in terms of ease to learn and usability. It has one of the most expensive base plans.
Some of the other alternatives listed by them are MavSocial, Oktopost, Jollor Meshfire and Rignite among others.
Some of the other tools according to the utility can be:
SumAll- for social media reports
Feedient- for centralized social media streaming
Buffer- for social media scheduling
SocialCount- for tracking shares and reach of your content
SocialHunt- for tracking follower's activities on Twitter
BuzzSumo Alerts- for notification of your content when it goes viral
Social media management tools are used by both social media managers and regular users. There are many tools in the market, so choosing the right one(s) might be tedious, but keep in mind your requirement before selecting. Social media analysis is a complicated mechanism, so choose a tool, which is easy to use and interpret, according to your need. Though, these are automated tool, they still need a bit of human touch to manage and use the results effectively.
Your social media management strategy makes handling multiple accounts easy and time-saving for you. It should also take care of security and identity theft issues. These tools also help to manage your audience and followers. Some of the strategies to manage multiple accounts are:
Add your social media profiles into a single dashboard
Plan and schedule posts before time of release so that you can avoid last minute confusion; you can set a reminder as well
Manage your audience well; defragment them with separate lists so that you can track better
Track the reach of your content with shares, re-tweets and others in one place
Automate most of the tasks
Compare and contrast your states against a benchmark
So, if you have multiple social media accounts and finding it difficult to manage them, then it is time to adopt one or more social media management tool(s) to make the best of your social media presence.
Hey, thanks for the info. Now what?
If you need any help with content creation, we have tons of free resources to get you over the hump. Please subscribe to this blog to ensure that you never miss an article.
Have questions or comments? Please use the comment form down below. We read and reply to every comment.
If you really enjoyed this post, please help us to spread the word by clicking one of the social media sharing buttons.